Brent Littlejohn's Portland Blazers Fan Profile
Profile photo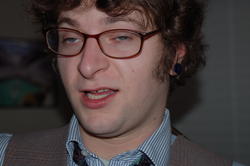 Who am I?
English Major at Portland State University, though this doesn't guarantee good writing. Organization is tough, what can I say?

Blazer fan since Cliff's rookie year, and I've stayed true ever since even during the telfair days, when we passed on chris paul (but went back to the lottery because of it and got BROY). Now we've got one of the deepest rosters in the league and I just hope Prichard doesn't do anything ugly. like trade for j kid. NO! refrain!!!
Brent Littlejohn's comment wall
No comments on this wall. Login to post a comment.
Brent Littlejohn's Weblog Posts
Will the Blazers make the Playoffs? Breaking down the sched posted on 02/23/2009

The Portland Blazers do not need another young talent, thus getting into the lottery is no priority of ours. Making the playoffs, and hopefully puttin up a little bit of a fight, is for real. The team fell apart last year after that big win streak, when they went 17 of 18 overall only to remember their inexperience- and this year they gotta make the playoffs. no title, just playoffs. in the always tight Western playoff race, how do we get there?
We need to win road games. At the beginning of the season, media spoke of the blazers early success to be significant because of their hard early schedule; tough teams, and road games, the most road games of any team for the first month and a half. Then we stayed second in total road games played for a month after that. Last month, and last week we played enough home games to even out the score. And we did well for ourselves.
Continue reading "Will the Blazers make the Playoffs? Breaking down the sched"
(0 comments)
Blazer trade scenarios posted on 02/18/2009

As a portland blazer fan, it is hard for me to want a trade. Trades, especially midseason, can screw a team. shank them to high heavens and back. When we are talking about, sending youth away for a "proven" commodity, we don't know how that youth is gonna ball when he is a big assed man, no longer smooth like babies bottom. Jermaine O'neal for Dale Davis, anyone? That shit is not always a good idea! LaMarcus Aldridge is not an inside beast, but he can jam it with authority and hang time. So I'm glad we apparently got off the Amare band wagon. Amare Stoudemire deserves his props, he can dunk it. He can energize a building. He sometimes wears cool goggles. And he's physically huge. But he's got more NBA milage. And he's got, potentially future knee complications from his microfracture surgery, the same as Oden, but worse. Longer recovery. Came back and left again. DO we need our two main bigs with bad knees, or at least bigger risks? Aldridge, less Nba Miles, younger, less prone to injury. He may not be the physical specimen, but the dude's only 23. Give him time for those things. He'll end up.. 70 percent the size of stoudemire, but with a better jump shot, and hopefully some defense and motivation! horrah!
Continue reading "Blazer trade scenarios"
(0 comments)
01/21 - Blazers vs Cavs posted on 01/21/2009

I generally hate the best player in the league. I hated MJ before he showed us how awful he is at putting a team together, or making any type of post-player basketball decisions. I hated him when he was torching people on the court. Just like I hated Kobe Bryant through their three peat, then after, for having the biggest ego around and wanting to be a one man show. The guy is still a joke, I think, but I can at least respect the insane-ness of his turn around fadeaways. The dude jumps three or four feet backwards man, I have no idea how he lands back on his feet. But Kobe ain't the best around, I hear he doesn't need to be on his team, with that depth, but he's also 30 and a 10 + year vet. It's simply Lebron's league now. James can dominate an entire game without making one three pointer. He is a guard in Dwight Howard's body. And tonight against the blazers he is gonna roll. But I still don't hate the dude.
Continue reading "01/21 - Blazers vs Cavs"
(0 comments)